Video
About Chrometech of Wisconsin
Value Added Plating Solutions for Industry
Are you looking for an industrial plating company that:
Is ISO Certified?
Has been a trusted name in the industry for over 30 years?
Consistently meets your quality and delivery requirements?
Has a highly educated and trained workforce?
Serves clients throughout North America?
Can process one part or one million parts?
You're looking for ChromeTech!
ChromeTech of Wisconsin is an ISO certified industrial plating company that has been serving clients throughout North America since 1984. We are proud to provide service to a wide variety of industries, specializing in the areas of hard chrome plating, sulfamate nickel plating, electroless nickel plating, and nickel-chrome plating.
Let ChromeTech be your plating experts so that you can focus on manufacturing.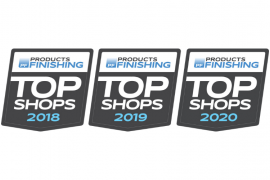 ChromeTech of Wisconsin, Inc. is proud to have been chosen as one of the 2020 Top Shops for Electroplating and Anodizing. This is the third year in a row we've been…
"I would recommend ChromeTech to anyone due to the fact that they go above and beyond the expectations I have had. They do exactly what they say they will do, in a good time frame. ChromeTech has been a great business partner through the years.