Video
Chrometech of Wisconsin -
Industry Leaders in Functional Plating
Are you looking for an industrial plating company that:
Is ISO 9001:2015 Certified?
Has been a trusted name in the industry for over 35 years?
Consistently meets your quality and delivery requirements?
Has a highly educated and trained workforce?
Serves clients throughout North America?
Can process one part or one million parts?
You're looking for ChromeTech!
ChromeTech of Wisconsin is an ISO 9001:2015 certified industrial plating company that has been serving clients throughout North America since 1984. We are proud to provide functional plating services to a wide variety of industries, specializing in the areas of hard chrome plating, sulfamate nickel plating, electroless nickel plating, and nickel-chrome plating.
More Reasons to Choose ChromeTech of Wisconsin
We have an in-house chemist, and we have every tank tested weekly by a certified lab –
You benefit from quality and consistency
We purify our own chrome, which protects the environment and reduces costs –
You get savings that are passed on to you
We can store your parts –
You can receive your parts as needed
We are family owned, with the next generation coming –
You can count on us being here for you for a long time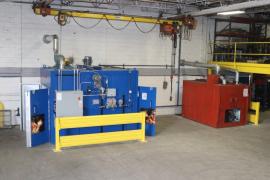 We bought a new oven! You might expect this to be exciting news if we were a bakery. Well, it's exciting news for a plating company too! In many cases we bake…
I recommend ChromeTech. They provide good communication, quick response, and they hold their prices well.